Choice Overload

– How Having Too Many Options Can Shut Down Your Brain
Being able to choose what to pursue in life – or what kind of shampoo to use – is in fact how we define freedom. But is there such a thing as too much choice? Too many options? Enter, choice overload.
Definition of Choice overload
Choice overload or overchoice is a cognitive impairment that occurs during a decision-making process when we are presented with too many options we cannot easily choose between. Our ability to make a good decision is reduced by the overload of choices, as is our satisfaction with the final decision.
Choice Overload
Choice overload is a result of too many choices being available. It can result in decision fatigue, sticking to the default option, or even avoiding making a decision altogether.
Choice overload is most likely to happen, when deciding in an area we are not knowledgeable enough about. Its effects diminish the more familiar we are with the subject (professional bakers will not have a problem choosing a type of flour) as well as with how well defined our opinion on the subject is (although you might not be an expert on crisps, you are familiar enough not to be paralysed by the multitude of options in the store).
What are the symptoms?
Do you remember that time you went to a wine shop to grab a special bottle for date night with your significant other? You walked in, wandered around among all the Sauvignons and Pinots with different countries of origin, vintages, and flavor profiles … just to leave with the same bottle of Riesling you always go for.
How did it happen?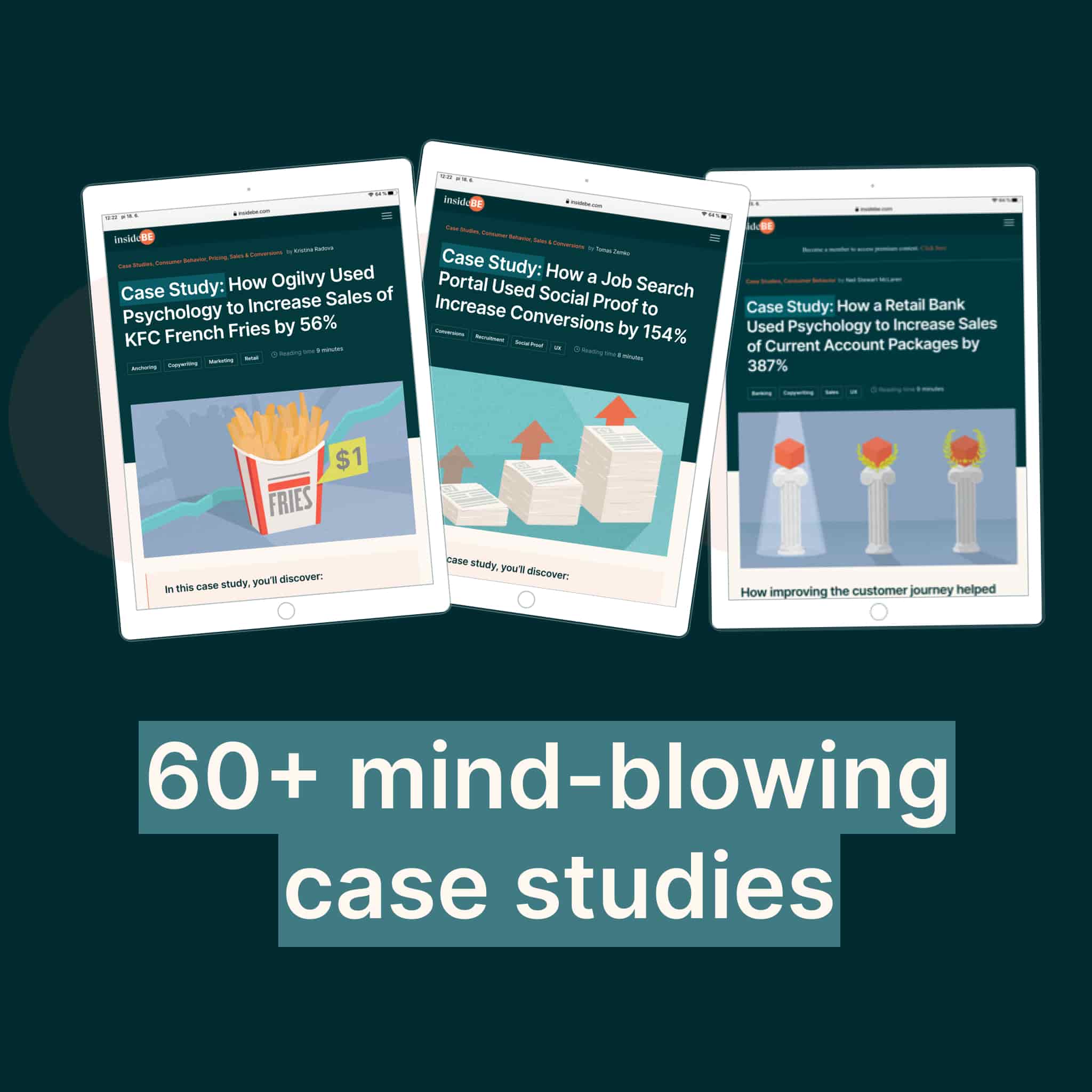 Get access to all case studies available on InsideBE
Discover ground-breaking ideas and fascinating solutions.
Well, you went in, and there was this beautiful bottle of Pinot Gris, just perfect. But wait! What about that Montepulciano over there? Your spouse loves the drier stuff. Oh, and there was an interesting fortified Australian Shiraz that had won some kind of award.
Ok, that one might be great, let's go with it …. Or should you? What if the bottle next to it is much better? And what does "fortified" even mean? You just can't decide!
And then your mind snapped – you put the fancy wine back, grabbed the tried and tested bottle and left.
Watch this TED Talk by Sheena S. Iyengar, author of one of the most famous studies on the subject of choice overload, showing several interesting examples of choice overload – as well as several ways to mitigate it.
Why does it affect us?
In more than 600 studies throughout the years (such as "How to Make Nothing Out of Something: Analyses of the Impact of Study Sampling and Statistical Interpretation in Misleading Meta-Analytic Conclusions" by Michael R. Cunningham and Roy F. Baumeister, a more recent meta-analysis), scientists have proven that making decisions drains our willpower in a process called "ego depletion".