12 Examples of

Anchoring Bias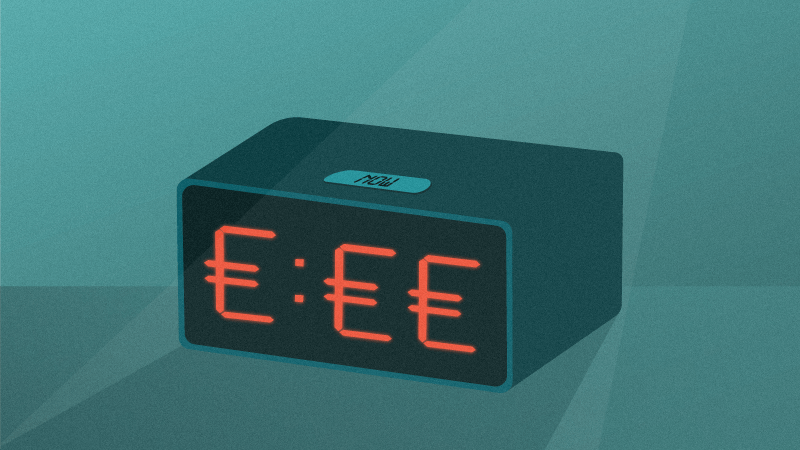 Anchoring bias is a powerful effect that can help you sell, present or negotiate better – if you know how to use it. Learn how from 12 examples of real-life uses of anchoring.
Anchoring bias is our tendency to rely on the first piece of information we encounter. Such information serves as an anchor, and we adjust our next decisions around that reference point.
Anchoring bias affects our daily decisions, including purchase decisions and the important decisions we make at work. An anchor can be basically anything – our perception of price can be anchored by a number (even a random one), and we can use our previous decisions as a reference point for our subsequent choices.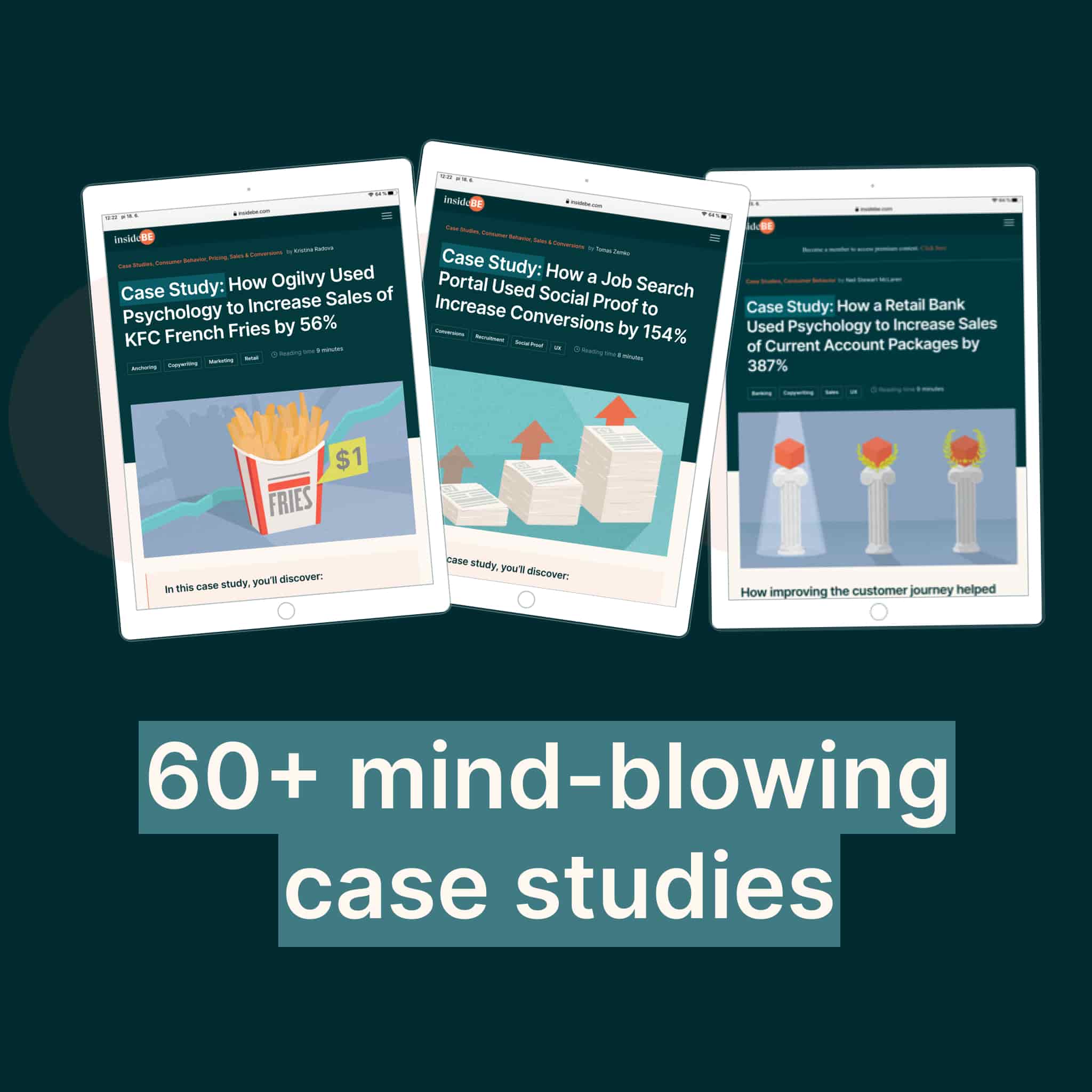 Get access to all case studies available on InsideBE
Discover ground-breaking ideas and fascinating solutions.
Examples of anchoring in price perception
The most common use of anchoring in sales are discounts. You see it every day – the original price serves as an anchor and the discounted one suddenly doesn't seem that bad.
Anchoring bias
People's tendency to rely and base their decisions on the first piece of information (often number) offered. The anchor creates a reference point to which people compare other prices.
But is there a way to use this a bit more creatively? You bet.
Example 1: Putting overpriced items on the menu first
Take Serendipity 3 as an example. This restaurant in New York City created something no one had done before. Literally – it made it to the Guinness Book of World Records. A $ 69 hot dog.

But they didn't make it to sell it, no. Just think about it – once you see that expensive hot dog on the menu, $17.95 for a cheeseburger suddenly seems like a much more reasonable price, doesn't it? And that's exactly how anchors work. After introducing the hot dog, the sales of their cheeseburgers skyrocketed.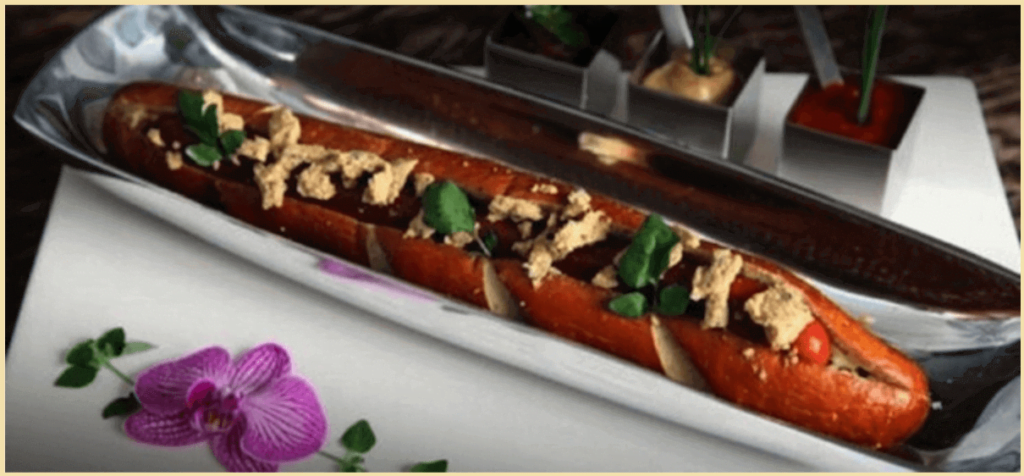 Example 2: Changing the context to make the price seem lower
Nespresso went far beyond changing the price and changed the whole context.
What's the highest price you would be willing to spend for a 474g (17oz) bag of coffee? €10? €20? €45?
Let's be honest, €45 for a bag of coffee sounds ridiculous. BUT, if you did the math, you would find that it is the same price per gram as 50 cents for a Nespresso pod
People are well aware of the prices per bag, as they buy coffee quite often. This is already an anchor. Whenever we see a €45 bag of coffee, we compare it to the price we are used to, so it seems far too expensive.
Nespresso came up with the brilliant idea of selling their coffee in pods. A pod equalled a cup of coffee, so it changed the anchor. When we think of a cup of coffee, we don't compare it to a bag of coffee but to the cost of a cup at Starbucks. Suddenly 50 cents for a Nespresso pod looks like a bargain compared to €3,50 for an Americano at Starbucks.
Example 3: The good 'ol ".99" trick and the power of the first number anchor
If you think the .99 price is the oldest trick in the book and does not work anymore … maybe you should think again.

Study after study finds that the first digit works as an anchor for price gauging. That is why we are 50-100% more likely to buy a t-shirt costing €39.99 than one costing €40. In a study from 2021, a group of researchers from Ohio State University found out that when choosing between a small coffee for $0.95 and a large coffee priced at $1.20, only 29% of people chose to go with the larger option.
But everything changed when they increased the price of both options by 5 cents. With a $1 small cup and $1.25 for a large one, 56% of people decided to go for the larger option. The first digit was the same, so the difference seemed smaller … and led to a 51% increase in sales of the pricier option.
What are the factors influencing buyers' decisions? Price is just one of them. You can find 3 other important factors in our article The Psychology of Pricing: Hidden Factors Affecting Your Customers' Buying Decisions.
Example 4: The price of diamond engagement rings is the result of decades-long anchoring
How much should an engagement ring cost?
Common knowledge says it should be worth 1-3 months' salary of the buyer.

Except it doesn't.
The idea of spending so much on an engagement ring was preposterous before De Beers started to anchor it as such in the 1930s. They came up with this arbitrary figure just to prop up the price of diamonds. Together with a brilliant "Diamonds are forever" campaign, this anchor took hold, and decades of reinforcement by De Beers have brought us the diamond engagement ring sector as we know it today.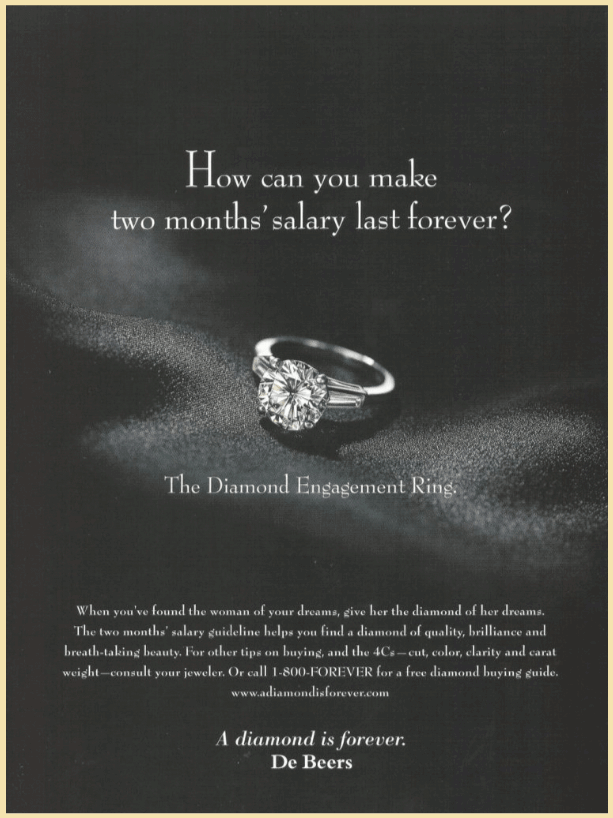 Examples of anchoring to increase sales
Even more powerful than anchoring price, anchoring behavior is a way marketing experts have been getting us to buy more and spend more for years.
Example 5: How supermarkets limit your purchases to make you leave with more
While cruising around the supermarket, or going through their flyer, you might have seen something like "Offer limited to 12 pcs per family".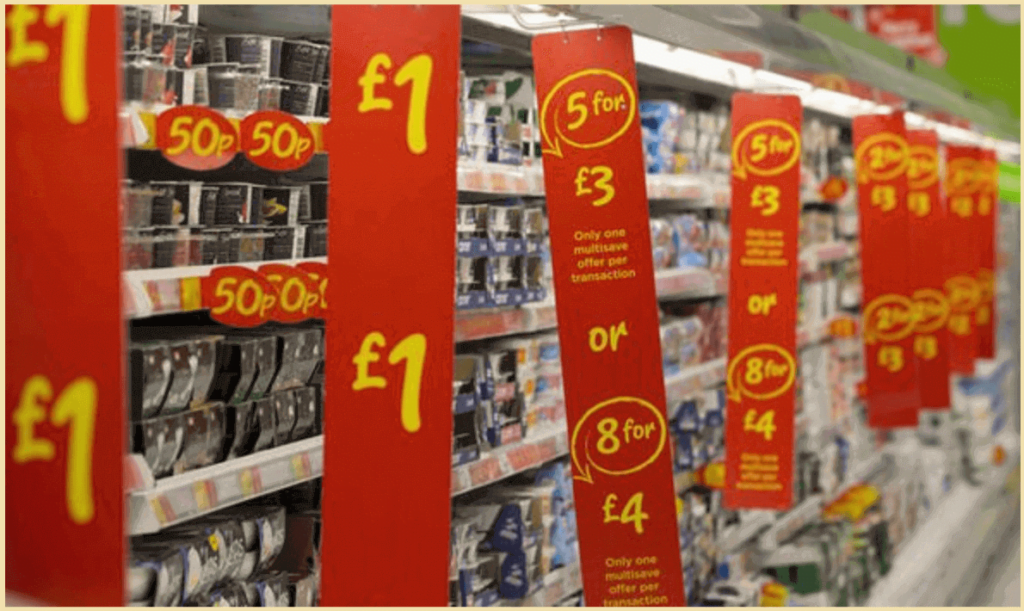 And it makes sense – you don't want the first few people going in the store to buy all the discounted goods. Would you agree? If yes, the anchor is already in place … and it's not what you think.

The number they are actually anchoring you to is how many pieces of product it is acceptable to buy. With a high anchor number, you don't feel so bad about buying as much – in the end, there is a limit, and you are no way near it.
When testing their theory with cans of Campbell's soup, Wansink, Kent, and Hoch found that the number of cans purchased more than doubled – from an average of 3.3 cans per shopper to 7 – just by planting a sign limiting the number of cans people can purchase to 12 per family.
Example 6: How KFC sold 56% more french fries with the help of anchoring
Brief: Increase the sales of french fries.
Challenge: You cannot change the product, offer, or the price – just communication.

Interesting challenge, isn't it?
This brief from KFC Australia landed on the table of the Ogilvy agency in 2014. "One dollar Aussie chips" had been a popular deal in the land down under for a couple of years already.
But this time, a group of creatives and behavioral scientists came together to boost it even more.
They thought up over 90 ways to change the messaging and communication to increase sales – and one of 5 main principles they implemented was anchoring.
They worked with a similar anchor to supermarkets – capping the purchase amount. But instead of hiding it at the bottom of the ad, they made it into their main headline.

"A deal so good you can only buy four."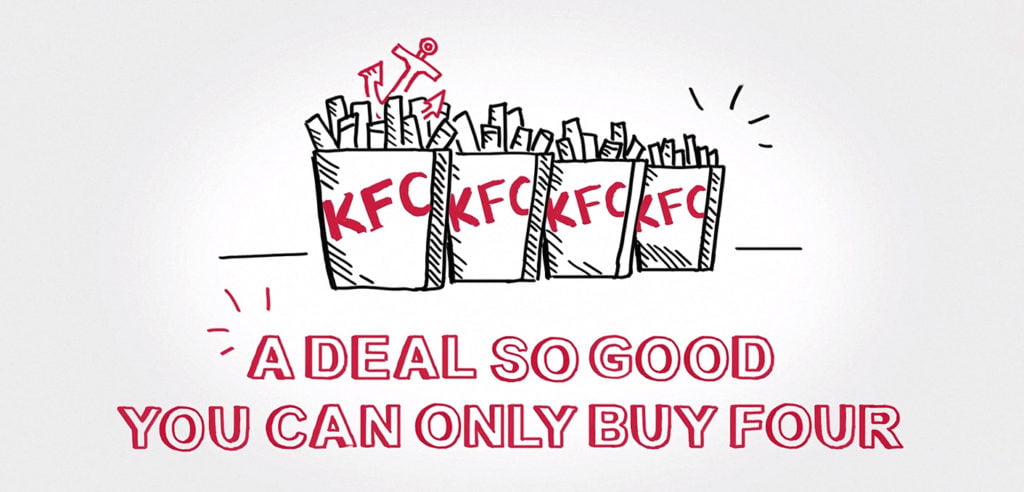 Limit the purchase of a product people already love – make it scarce in a sense – and they will go crazy! And that is exactly what happened. Sales of "1-dollar chips" shot up by 56%.

Of course, anchoring was just part of the overall strategy. Do you want to know the 4 other behavioral principles that helped to bring about this incredible result? You can dig into all the details in this great case study from Sam Tatam, Head of Behavioral Science at Ogilvy.
Examples of anchoring in meetings
Anchoring is closely related with the concept of "framing" – presenting the argument in the best frame of reference to achieve your goal.
So, how can you use anchors to your advantage when trying to convince your colleagues or business partners?
Example 7: The order of information can make or break your presentation
Imagine you need to go for surgery, and are presented with 2 options.

Option number one is a standard way, which is tried and tested by thousands of patients, and boasts a 90% success rate – although the recovery is slow.

Option number two is an experimental approach with much faster recovery, but there is a 10% chance something will go wrong.
Which one do you find more appealing? Do you like to play it safe, or would you take a risk for the reward of a fast recovery?
People who were presented with contrarian ideas and arguments first were more likely to accept and consider them than people who got congenial information presented first.
If you study the options carefully, you'll find there is no difference. Each is successful in 9 out of 10 cases. But by anchoring option number one as a "safe, tested method", you were more inclined to focus on how safe it is, while anchoring the other option as "experimental" had you focused on the risks.
This was tested in an interesting study by psychologists from the Department of Psychology at the University of Michigan. When presenting groups of people with information on divisive topics like gun control, people who were presented with contrarian ideas and arguments first were more likely to accept and consider them than people who got congenial information presented first.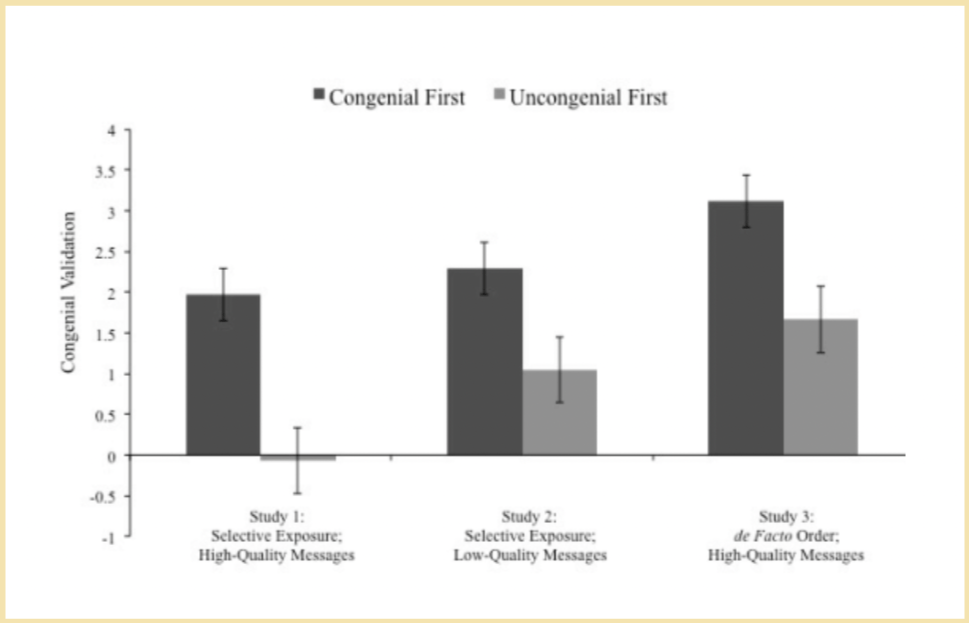 You can use this fact in building your next sales pitch or presentation.
Present all the facts supporting the main point you want to get across in the first few slides. This will frame the whole presentation around your first claim – and all that follows will be viewed as supporting (or opposing) it.
Want to delve deeper into the reasons why anchoring bias works? Read or article Anchoring bias – everything you need to know.
Example 8: Why do meetings get stuck on the first idea? Blame anchors
Can anchoring limit creativity or stifle the finding of the right solution? You bet.
The first idea gets presented – especially if it's from someone higher up – and instead of moving on and going to other ideas or solutions from other colleagues, debate gets stuck on the minutiae of the first idea presented.
In the study from 2016, "Are groups less behavioral?", a group of researchers led by Lukas Meub and Till Proeger found out that in the field of facts and numbers, groups can mitigate the anchoring bias.

But when it comes to opinions and judgments (as in the case of brainstorming) we seem to go with the herd – and anchoring bias is as prevalent as ever.

This can be for a few reasons:
The first idea sets "the mood" – especially in brainstorming, this can be a dangerous path. The first idea explores a certain train of thought – and drops an anchor. Most people will circle the anchor with their ideas, but will not venture down all the other, unexplored paths.
People see it as setting a bar of quality – the first idea anchors the level of discussion as well. If others believe their ideas are below the bar set by the first idea, they might keep them to themselves.
Leaving the anchor hurts – the first anchor creates a secure space for discussion. It has a set theme, and everybody can contribute by sharing their opinion. This can be helpful for a time, but if it stifles further discussion, it will hurt the meeting in the end.
First ideas drop on a blank slate – when presenting your solutions to the client, the first one does not have to fight with other solutions for space in their mind. It is the clearest, and thus can be regarded as the best.
How can you avoid this?
First of all, set the agenda and stick to it. If the discussion gets stuck, set a time limit. When it runs out, note the necessary points and move forward.
In the case of meetings with colleagues, ask them to send their solutions ahead of the meeting, so everyone can read and evaluate them at their own convenience.
And in the case of clients … use it to your advantage! Present the solution you believe to be the best first and anchor the presentation or discussion around it on purpose.
Examples of anchoring in estimating numbers
Do you think your estimates are the result of well-calibrated sense trained over the years? Decades of research seem to suggest otherwise – most of the time they are easily swayed by random anchors.
Example 9: How roulette can influence the number of UN countries in Africa
In a now famous experiment from 1974, Tversky and Kahneman influenced numbers on a roulette wheel. But don't worry – it was all in the name of science.
They rigged the wheel in such a way that it landed on either 10 or 65.
After the spin, they asked unknowing participants of the study a completely unrelated question: "What percentage of countries in Africa are part of the United Nations?"

Do you think something as irrelevant as a roulette number could have influenced their answer?
Of course. This number served as a really convincing anchor – people exposed to the number 10 guessed on average that 25% of countries were part of the UN, while the guesses of the people exposed to the number 65 were much higher – 45% on average.
Example 10: Try it yourself: How big is the fuel tank of a jumbo jet?
You can try this one right now, if you have anyone handy.
How many liters of fuel do you think you need to fill up the tank of a jumbo jet? Is it more, or less than a 1000? How much exactly?
Write down your answer.
Now get your friend and ask them a slightly different question.
How many liters of fuel do you think it takes to fill up the tank of a jumbo jet? 100,000 or 200,000? How much exactly?
Now compare your results.
We can bet they are orders of magnitude different from each other.

Why? Because the anchor we provided in the question itself (1000 and 100,000 liters) influenced your guess and gave you the range from which you came to your conclusion. Maybe subconsciously, but those numbers still had a great effect on your guess. Your brain just took the numbers it saw and gave them relevance, even though there was none – the right answer is nearly 400,000 liters.
Example 11: Are economic forecasters rational or biased?
Not even professional macroeconomic forecasters are free of anchoring bias, as found in a study by Campbell and Sharp from 2007.
By studying the difference between forecasts and actual macroeconomic results, researchers found that a significant portion of the differences can be attributed to anchoring bias. As opposed to traditional "first information" anchoring bias, this time they were affected by the salience of the latest data, which acted as an anchor.
They gave more weight to recent events and results of companies just because they were more readily available to them – and anchored their expectations of future growth in results from the last reported period.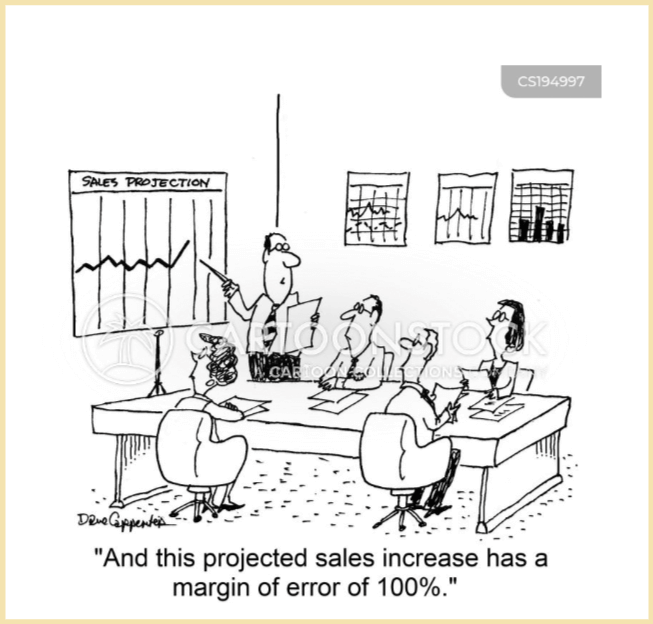 Examples of anchoring in negotiations
Negotiations – whether about your salary, the price of goods, or an international contract – are for the most part based on anchoring. But not just one simple anchor – there is a web of anchors and anti-anchors, which are laid down in the course of negotiations to draw boundaries.

What techniques are used most often?
Example 12: Creating wiggle room by over or undershot anchoring

This technique only works if one of the sides does not have complete information – like the salary for a similar position in your city. The more knowledgeable both sides are, the less effective these anchors are.
The most used technique is over and undershooting your position. You might find it on the streets of Moroccan markets, as well as in international diplomacy.

The first number dropped creates an anchor for the whole negotiation and sets the range you are willing to move into. By intentionally under or overshooting, you are forcing the other side to react to your offer and readjust their expectations to fit into the frame set by you.

For example, let's imagine you are at a job interview. You have a salary expectation of $55,000 a year, but the recruiter starts with an offer of $30,000. What will you do? Even though you haven't voiced your expectation, you will adjust and try to go for the middle ground – $40 000.
Just by going first, the recruiter saved $15 000 on your costs, and they didn't even have to argue with you.
Just a word of caution: this technique only works if one of the sides does not have complete information – like the salary for a similar position in your city. The more knowledgeable both sides are, the less effective these anchors are.
Defusing the anchor in negotiations
If you are in a situation where the other side has dropped an anchor, there is still a chance to get back on track. One of the more aggressive techniques mentioned in the book "Negotiation Genius" by Deepak Malhotra and Max Bazerman of Harvard Business School is "Anchored counteroffer and moderation".

Let's get right back into our recruitment example.
The recruiter has anchored the salary at $30,000 and is ready to negotiate. What should you do?

You must not reply with your own anchor – that will get negotiations into a range from which it will be hard to get out. Instead, you should defuse the other side's anchor by clearly stating that it is unacceptable and supporting your position with a good argument. And only then dropping your own anchor.

It could go like this:
"Sorry, but $30,000 is a no-go. It's less than I have in my current position and doesn't reflect my experience. I was thinking in the range of $55-60,000."

In 2 simple sentences, you are reframing the whole negotiation again, where the other side has to come up with a counteroffer.
Summary
What is anchoring bias?
Anchoring bias is our tendency to rely on the first piece of information we encounter. Such information serves as an anchor, and we adjust our next decision around that reference point.
How can we use it in business?
Anchoring to manipulate price perception – creating a pricier option to make other options seem reasonable, reframing the price to a different category, starting the price with a lower number ($39 instead of $40) – there are a lot of options.
Anchoring to build habits – by anchoring certain behavior as "the right one", you can get your customers to build a habit that will make them come back again and again.
Anchoring in meetings and presentations – by dropping the anchor, you can frame the whole presentation or discussion in the way you want it to go, or use it to highlight one of the options you are presenting.
How to fight being affected by anchoring?
Learn about the subject – most of the time, getting more information and learning about the subject makes you less prone to anchoring, because you get your internal anchors set in advance from trusted sources.
Learn to defuse anchors – recognize when anchoring is being used on you and counter with an anchor of your own when possible. Taking a step back and viewing the situation from multiple angles (like getting advice) is also a great way to recognize anchoring.
Accept it – anchoring is a coping mechanism of our brain for situations without any previous reference point, and all of us are more or less prone to it. Getting ready and accepting it will affect you is the best thing you can do.
Additional readings:
---