4 Behavior Change Interventions

to Reduce Drunk Driving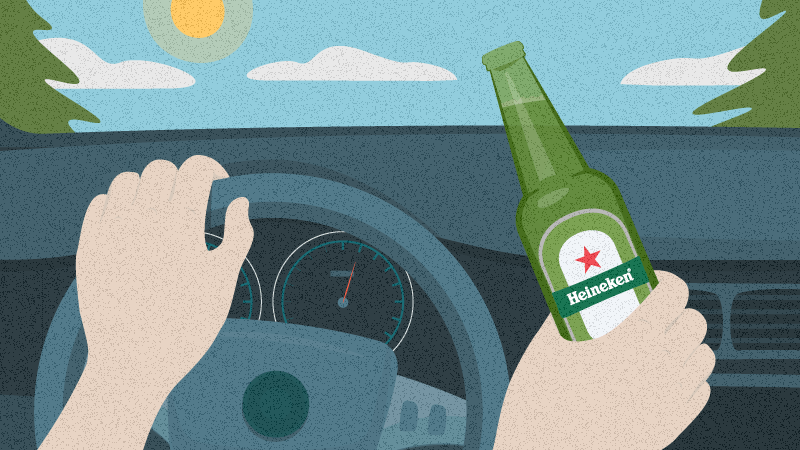 How can you make more pub visitors choose a non-alcoholic option they wouldn't normally consider? Offer social rewards, point out the different options at the right time, and use staff as your accomplice.
In this article you'll discover:
Why it isn't enough to educate customers to change their behavior;
What interventions prompted people to ask for non-alcoholic beverages; and
Why some ideas don't make it through the filter and which ones do.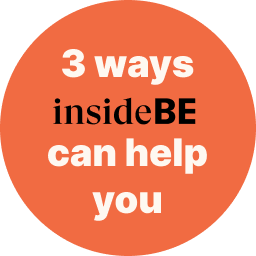 Learn about 3 ways InsideBE can help your company
We'll help you find the right BE experts, craft a custom training program, or get InsideBE licenses.
Picture the following scenario: It's the weekend and Becky, age 29, has been out all day with her boyfriend Sean. To give themselves a break from all the walking, they drop into a bar in town. Earlier that day Sean drove them into town in his car which Becky isn't insured to drive. 
They don't want to leave the car in town because the parking charges are so high. They also have plans for the next day, so they don't have time to pick up the car. They really need to drive the car back home today.
The young couple have been walking all day on the busy high street and Sean is craving a drink - he usually has one around this time on the weekend. Becky doesn't want to force him to have a non-alcoholic drink because he's driving. They're only planning to have one…
Curious whether they made it home safely? Relax, Becky and Sean aren't real. They are some of the fictitious personas Dr Helena Rubinstein's team at Innovia created during their ideation process to figure out how they could help drivers remain teetotal when they're in a bar.
The team's ideation process was part of a larger assignment which Innovia had been entrusted with in early 2018 after being approached by Heineken's PR agency.
The agency has been working on their When You Drive Never Drink campaign for years now (spending tens of millions pounds a year from their marketing budget to prevent people from drink driving) but it had limited effect. As Helena points out: "To tell people they shouldn't drink and drive doesn't work - people already know that and still drink and drive."
Helena points out: "To tell people they shouldn't drink and drive doesn't work - people already know that and still drink and drive."
The company wondered how to approach the problem in a way that would have a real effect on the behavior they wanted to induce: when driving and hanging out at bars and pubs socially, do not consume ANY alcohol.
Rubinstein's team homed in on the challenges people face when trying to stay sober in an environment that primes them to drink. The million-dollar question (actually two) was: How can we help drivers at a bar overcome these challenges? And what would the promoters of a new behavior - staying off booze when out and about - look like?
The problem: temptation gets in the way of the best intentions
Helena makes the point that this assignment was particularly tricky since influences on drinking behavior are multifactorial and interacting; a desire to drink can be reinforced by social expectations while an intention not to drink can be derailed by the absence of non-alcoholic alternatives.
Her team used two main data sources to learn about what drives drink-driving. Heineken had its own data on the drivers of drinking behavior, but the team were also able to rely on data from the academic arena. However, as Helena points out, they needed to recalibrate this data since the academic studies had predominantly studied people with serious drinking problems.
Theoretical frameworks such as the COM-B model and behavior change wheel informed and guided the team's decision on which factors they needed to influence to change the behavior.
The COM-B model explains each of the three key factors capable of changing behavior - capability, opportunity, and motivation. So if someone isn't doing something and you need to change that, check whether it could be a problem of capability (not knowing how to do it), opportunity (not being able to), or motivation (not wanting to), or a combination of the three.
In the case of drink-driving it became clear there is a knowledge gap – people don't know how much it's OK to drink. Since many countries don't have a zero-tolerance law, it makes the situation even messier.
"People simply don't know how much they can drink before they exceed the limit. Does it mean you can have a glass or two? Each glass is sized differently and once you have one, you're usually tempted to have another." as Rubinstein points out. Drivers also didn't know that even a small amount could impair their skills more than they would have anticipated. So this was clearly a capability problem.
And then there were the opportunity barriers: poor choice of alcohol-free options and peer pressure when out with friends.
Helena says social pressure plays a big role since society and culture influence what we think is acceptable or unacceptable. "When out with friends, drivers might feel peer pressure if they are to be the only one who isn't drinking. So they might go: "Oh, I don't want to be a buzzkill. I'll just have one or two".
Helena says social pressure plays a big role since society and culture influence what we think is acceptable or unacceptable. "Oh, I don't want to be a buzzkill. I'll just have one or two drinks," people say.
Drivers are also conditioned to act based on their past experience, which creates a motivation problem. So-called anticipated emotion plays a role here. For example, a driver might recall the last time they stayed off liquor and worry that if they don't have a drink they will feel miserable (like last time). That means they will be less motivated to stick with non- alcoholic beverages.
In addition, if something is a habit, like having a drink and then driving, it's hard to change as it can be deeply ingrained.
2 ways to generate ideas
The team explored the full range of ways to change behavior. They identified several interventions to prevent drink-driving around the COM-B model itself (during this ideation stage they asked questions like how can we eliminate the capability problem, how do we increase motivation).
But to make sure that they covered every angle, the team also brainstormed a range of possible solutions for various behavioral personas (archetypes) which they created, such as Becky and Sean, and tried to find solutions for their specific challenges.
Helena explains that this ideation process revolved around the following problem statement: "If this person came in, what would convince them not to drink?''. She says this was done mainly to rule some options out. For example, a good solution for Sean and Becky would be to provide them with a taxi service and someone to drive their car back, which sounds like a great idea but is too expensive, and thus not feasible to do at scale.
The process of evaluating ideas
Speaking of feasibility, each possible intervention had to make it through a process of evaluation which looked at 3 broad categories:
Outcome evaluation
Efficacy/effectiveness – does it work?
How well does it work? Effect sizes/clinical relevance?
Any unintended consequences (this is often overlooked!) - Could there be consequences or impacts on the company's reputation which we haven't foreseen?
Brand Fit – Does the intervention fit our/the brand?
2. Economic evaluation
How much does it cost?
Is it cost-effective?
Can we afford to create the intervention in a reasonable time scale?
3. Process evaluation
How does it work? (or why does it not work) – mechanisms and mediators
For whom does it work and under what conditions?
Out of dozens of ideas, four main ones were selected for testing as these met Heineken's criteria, had evidence of efficacy, were acceptable to consumers (based on feedback from preliminary testing), and contained a behavior change technique.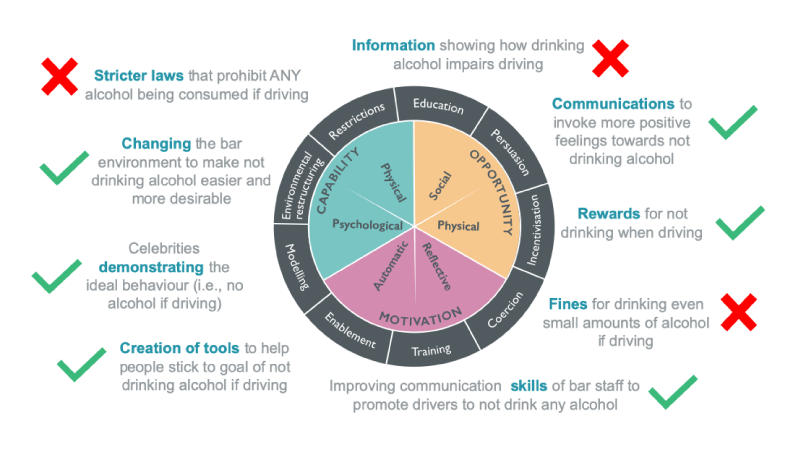 The 4 interventions
1. Making alcohol-free drinks visible and easy to access
Non-alcoholic options are typically hidden behind the bar. The intervention was to make it easy for visitors to access non-alcoholic drinks and make them visible. Innovia suggested placing them at more prominent places such as the top of the bar and adding pointers to non-alcoholic drinks so that at the moment a customer is about to order they can see the option is available to them.
2. Bar staff who offer encouragement
The bar staff were trained to ask questions to reassure drivers that it was okay and acceptable to have a non-alcoholic drink when driving. The bartender in this context would serve as a source of authority, someone who would reassure the customer and help reduce social influence and peer pressure.
But for that to happen drivers needed to chat to the bartender before they ordered their usual pint. Timing was crucial here: to encourage conversations, a prompt was added on the back of staff clothing inviting customers to "Ask me a question if you are driving tonight".
If they did that, the staff would present them with a reward: "Oh, you're driving tonight? We have a special offer for you and your friends."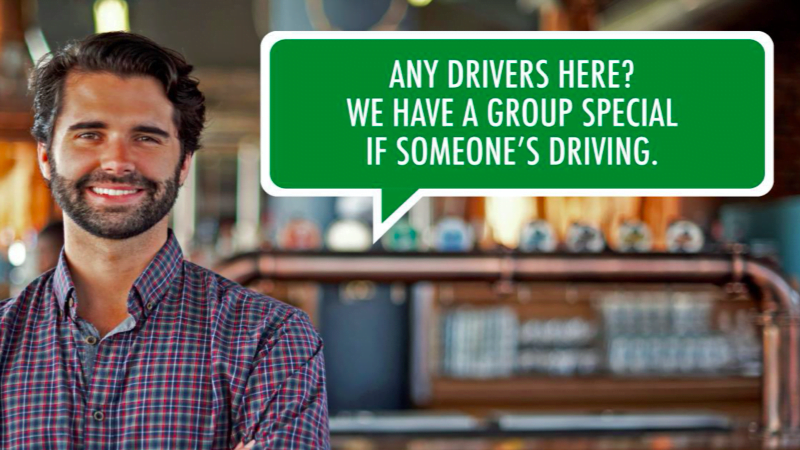 3. Incentives and rewards for drivers and friends
Wondering what that offer looked like? Each bar could decide what incentive they would give to a driver and a group of their friends; it could be free nachos, half-price non-alcoholic drinks...
The key was that the reward wasn't just for the driver, but for their social circle as well. So, the person who decided not to drink literally went from someone who was a party pooper to someone who was responsible (and responsible for free nachos). That is a powerful shift!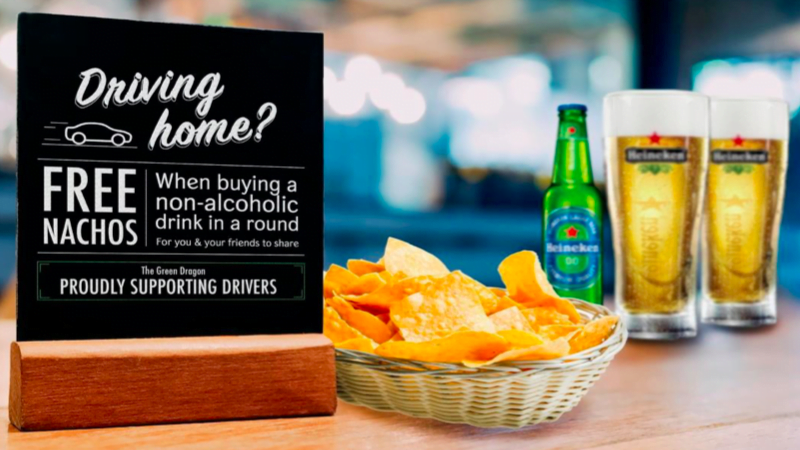 But the Innovia team was not finished yet. They knew that an equally important step had to take place right after a driver had agreed to take up the deal.
4. Adding commitment
After the customer said yes, the bartender handed them over a little card and was instructed to say "Ok, that's great! Every time you come for a drink sign this. And next time you come to the bar we can do it again."
This visible act of signing the card in a public place was designed to create a sense of commitment and form future decisions. If we have done something in the past, we are more likely to stick with that behavior in order to avoid negative feelings incongruent behavior would bring.
The instruction also featured a simple rule of thumb – when you drive, never drink – which made it easier to follow and stick to.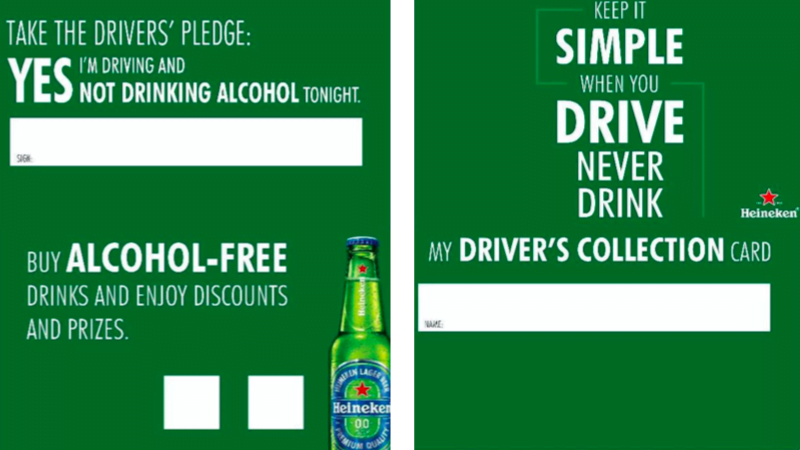 Helena shared that when this intervention was introduced in Brazil, their local behavioral experts turned it up a notch by creating a space on the bar wall where customers could pin the signed cards. That meant everyone could see all the guests who had signed that evening.
This is a great way to take advantage of social norms - if many other drivers are doing it, it's probably a good idea and I should do it as well. However, it would not have worked if only a few people had signed as this would create negative social proof.
Helena stresses that these 4 solutions all worked together, one enhancing the other. For example, social rewards were made easier to ask for by the prompt on the staff clothing, while the decision to stick to the group special all night long was reinforced by the pledge card.
Drink-driving cut by half
The pilot study was conducted in 10 Heineken® partner bars in Greater Manchester and Reading during May 2018.
Baseline data was collected during a three-day control period when decoy interventions were placed in the bars (similar looking visuals featuring generic information/deals).
Data on the behavior change programme was collected right after the control period ended, during a three-day intervention period when all 4 interventions were in place at once.
Over this period, researchers conducted over 700 exit interviews featuring pub experience questions such as how easy it was to get alcohol-free drinks, what the customers drank and how they were getting home. They reported that over 120 pledges had been signed and that the two top bars halved the proportion of customers driving after drinking - 15% in the intervention week compared to 29% in the control week.
On top of that, ​​60% of people said it made them think about changing their behavior and 80% reported the intervention made it easier not to drink alcohol if driving.
60% of people said that the intervention made them think about changing their behavior and 80% reported the intervention made it easier not to drink alcohol if driving.
The pilot study also ran in Brazil, Russia, Vietnam, and New Zealand. Each country followed the template featuring 4 interventions, but their local behavioral science teams had a licence to make modifications, and some came up with other ideas.
Interestingly, Helena points out that: "As a way of helping people not to drink and drive, these interventions were effective in all countries from very different cultures."
Key takeaways:
Use evidence to inform your decisions. A literature search at the start of the project will not only help you to identify barriers and promoters of drink driving but also to find evidence for what is effective
Consider whether you need to address all 3 COM-B factors (capability, opportunity and motivation) simultaneously to make the intervention more effective.
Evaluate each intervention before selecting the final few. Make sure to ask the following questions: Does the intervention fit our/the brand? Can we afford to create the intervention in a reasonable time scale? Could there be unintended consequences or impacts on the company's reputation?
Evaluate the acceptability of concepts as early as possible – in this case the team talked with at least 20 consumers in bars; this helped to rule out ideas that would not fly or could have unintended consequences.